Application Guide Without Service Fee Guide you how to apply for studying in Shanghai University & Study in shu
Intensive Chinese Program for International Students Shanghai University
Program Information
Spring Semester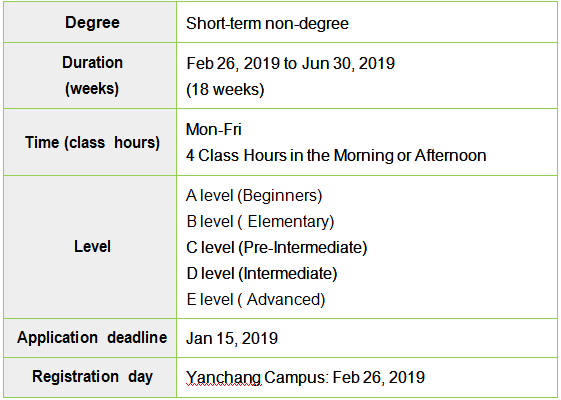 2019 Autumn Semester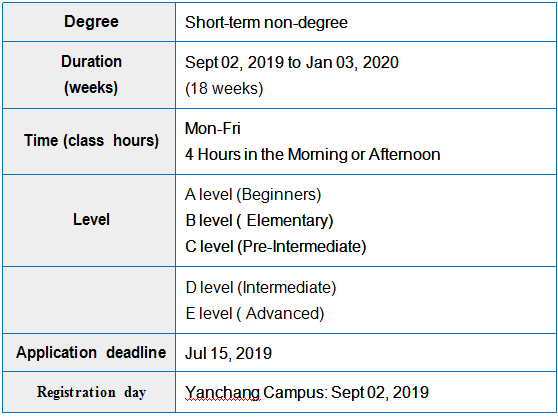 Eligibility
Non-Chinese citizens in good health; between 16 and 45 years' old, and have a valid
foreign passport.
Applicants in China should have a valid visa.
Fee

*Application fee is non-refundable.
Curriculum (For reference only)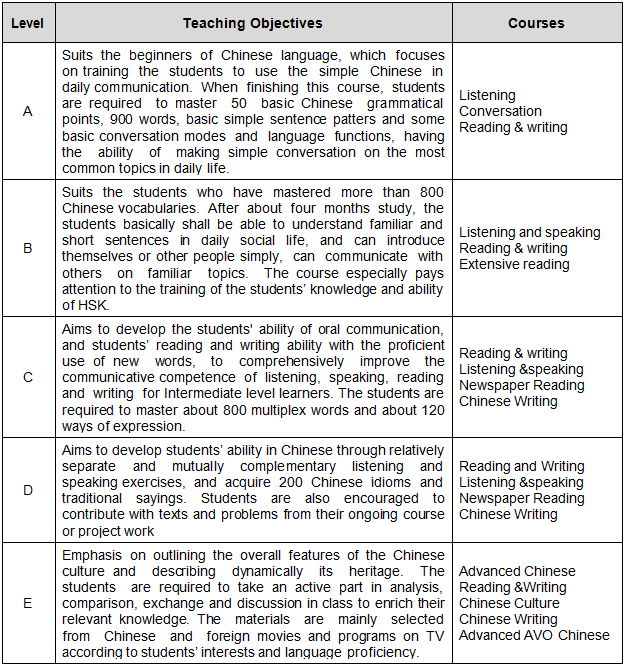 Timetable Sample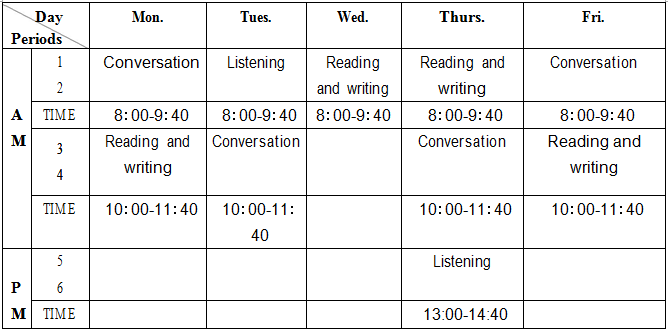 Class size
The minimum size of each class is 15 and the average is about 20.
Completion certificate
Completion certificate will be awarded to students who passed the final exam.
How to apply
1 Make an online application
Start your online application at the website.
2 Upload application documents
Prepare
at
least
the
necessary
documents
you
may
need
when
applying,
e.g.

Application Form, passport, photos, etc.
3 Payments
Pay online (recommended)
Pay by cash
4 Admissions
CIE will review applicants' qualifications with the completed materials and payment of application fee, and then send the admission files within 15 working days.
Before arrival
Booking Accommodation
You need to book the on-campus living online. CIE here reminds you to book it in advance.

Please apply for on-campus living online.

Taking Physical Examination
Normally, health certificate is ONLY required for X1 visa applicants with study period of more than 180 days. If the health certificate is not compulsory during your X1 visa application, you can also take the physical examination in China.
Applying for Visa
You are advised to apply for X2 visa with the admission notice from the local Chinese Embassy or specified visa application service center if you stay in China no more than 180 days. But if more than 180 days, you are advised to apply for X1 visa. Other visas cannot be changed to student visas.
Booking Air ticket
CIE advises you to book the air-ticket after you get the visa.
Airport Pickup service
CIE can now provide airport pickup service. If you need it, feel free to contact us with
the following information:
http://shu.admissions.cn
Registration
Arrival at the location within the registration period indicated on your admission notice is strongly advised because you will get the most supports and resources that will facilitate your registration and acclimation. Earlier or later arrival can be acceptable if only you've got permitted to do so by the university.
Main points: pre-register on computer; get a Chinese name; check the required documents; make the student ID card; payment; learn how to extend or renew your visa; take Chinese placement test.